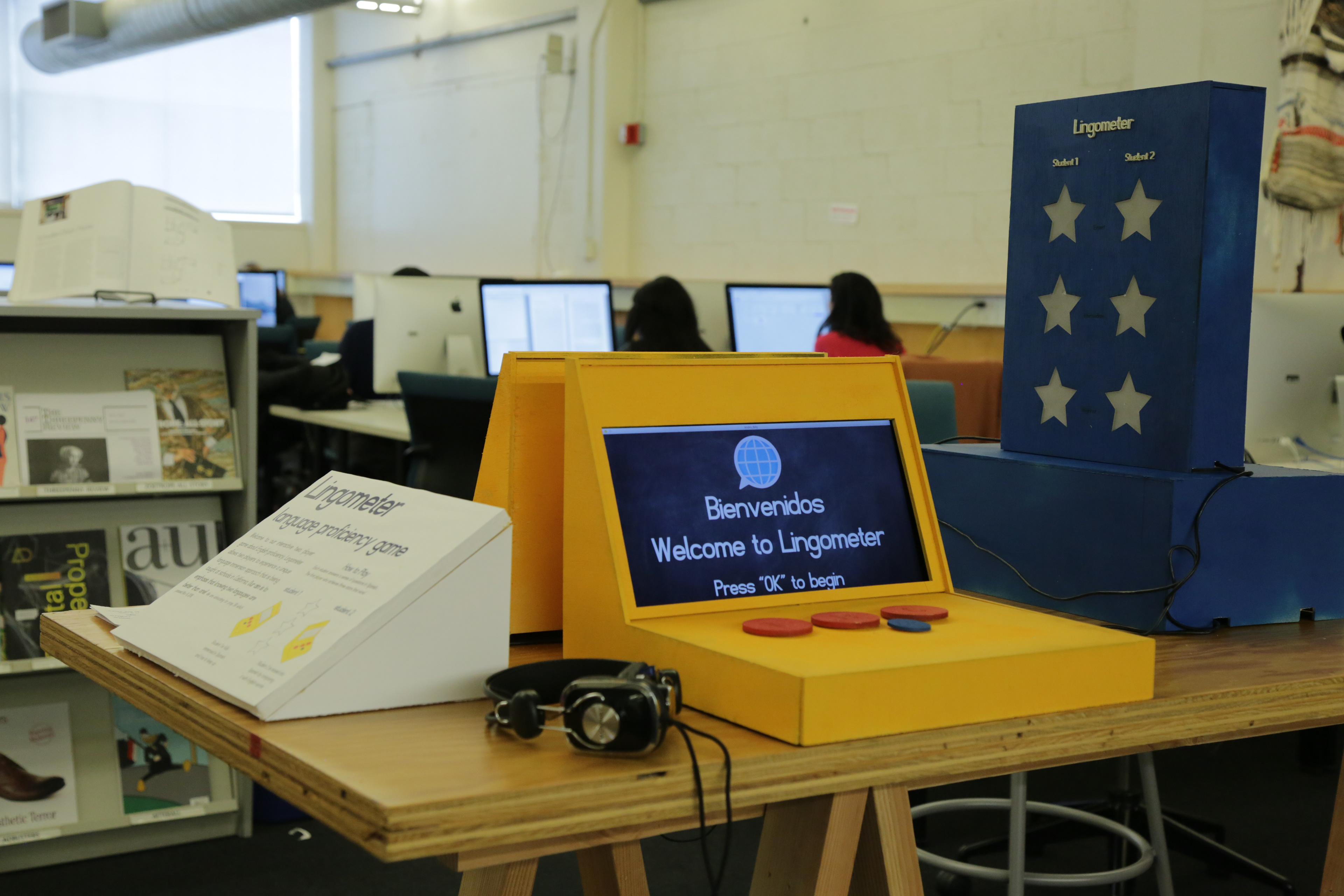 Design to Inform
The prompt for this experience was to design a public interactive for a 2016 Ballot Initiative that would inform voters about the effects of voting either "Yes" or "No". It was a fitting studio project because the Presidential Election was right around the corner. With a team of three international students who speak English as a second language, we chose Prop 58 because we wanted voters to experience and understand the opportunities of a bilingual education. 

Political Climate, 2016
Californians Revisit Ban On Bilingual Education 
More than 20% of California students are considered English learners. These students have a hard time reading, writing or speaking in English. Under current law
(Prop 227 from 1998)
, the state requires schools to teach these students mostly in English. State law limits the use of bilingual programs, which teach students using English and their native language. As a result, very few schools offer bilingual programs.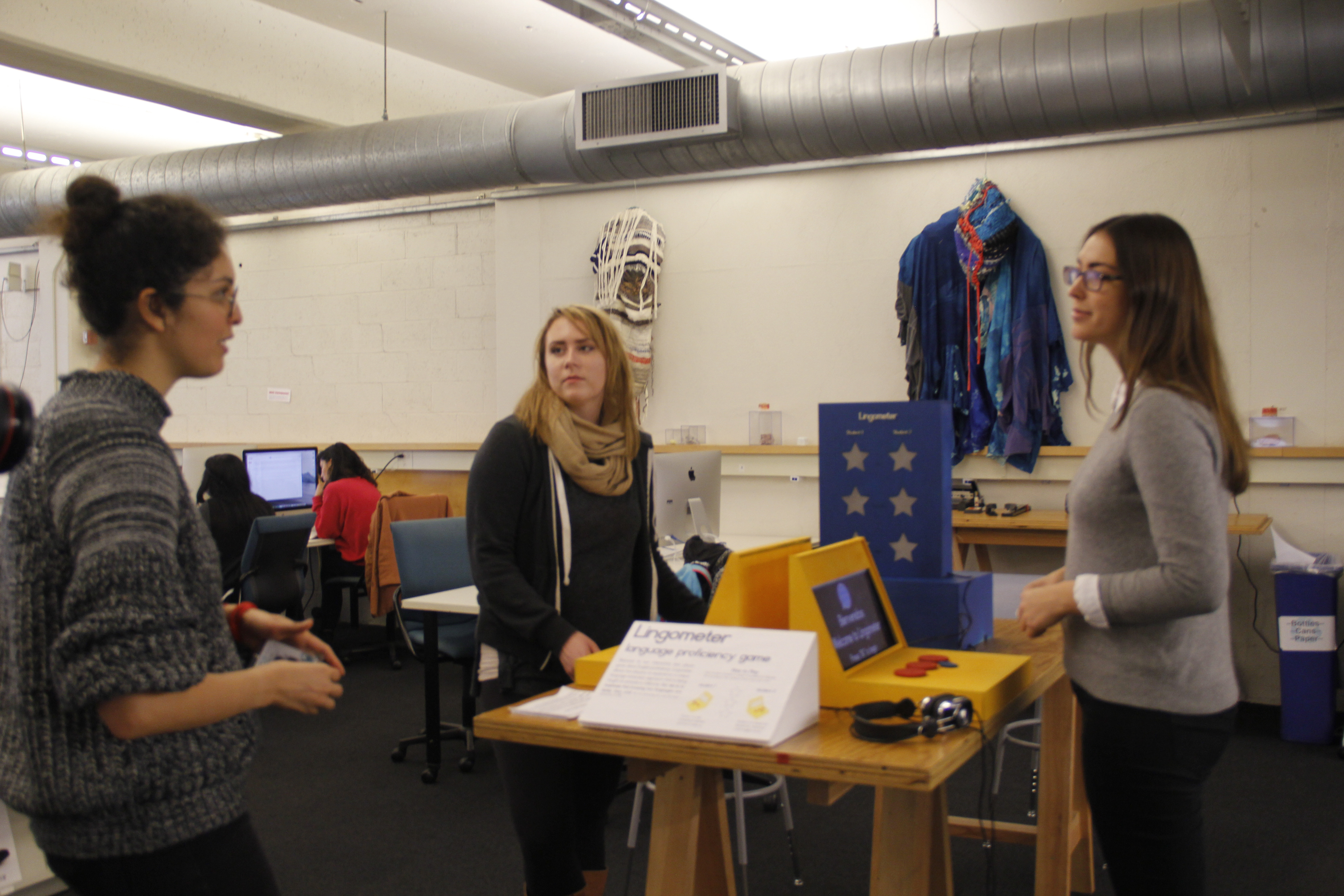 Social Impact Challenge
How might we educate voters about the benefits of Prop 58 which affects how students from K-12 will effectively participate, learn and excel in multi-lingual classrooms?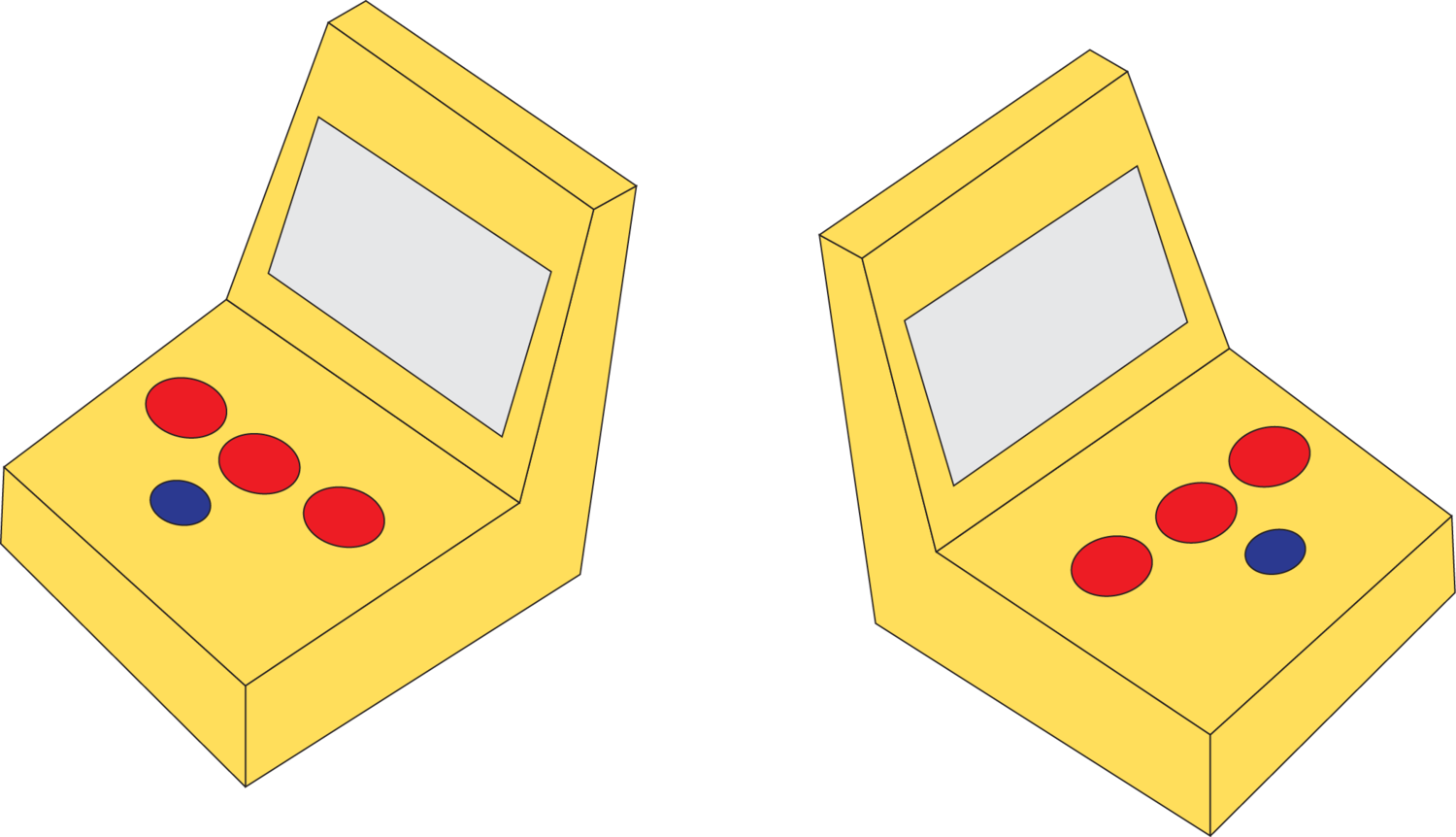 My role in this project was to design the look and feel of this interaction as well as write the Spanish script for the game. Because our interactive was about Education, we agreed to use primary colors and a typeface (
Fibel Nord
) that would remind users of traditional American classroom elements.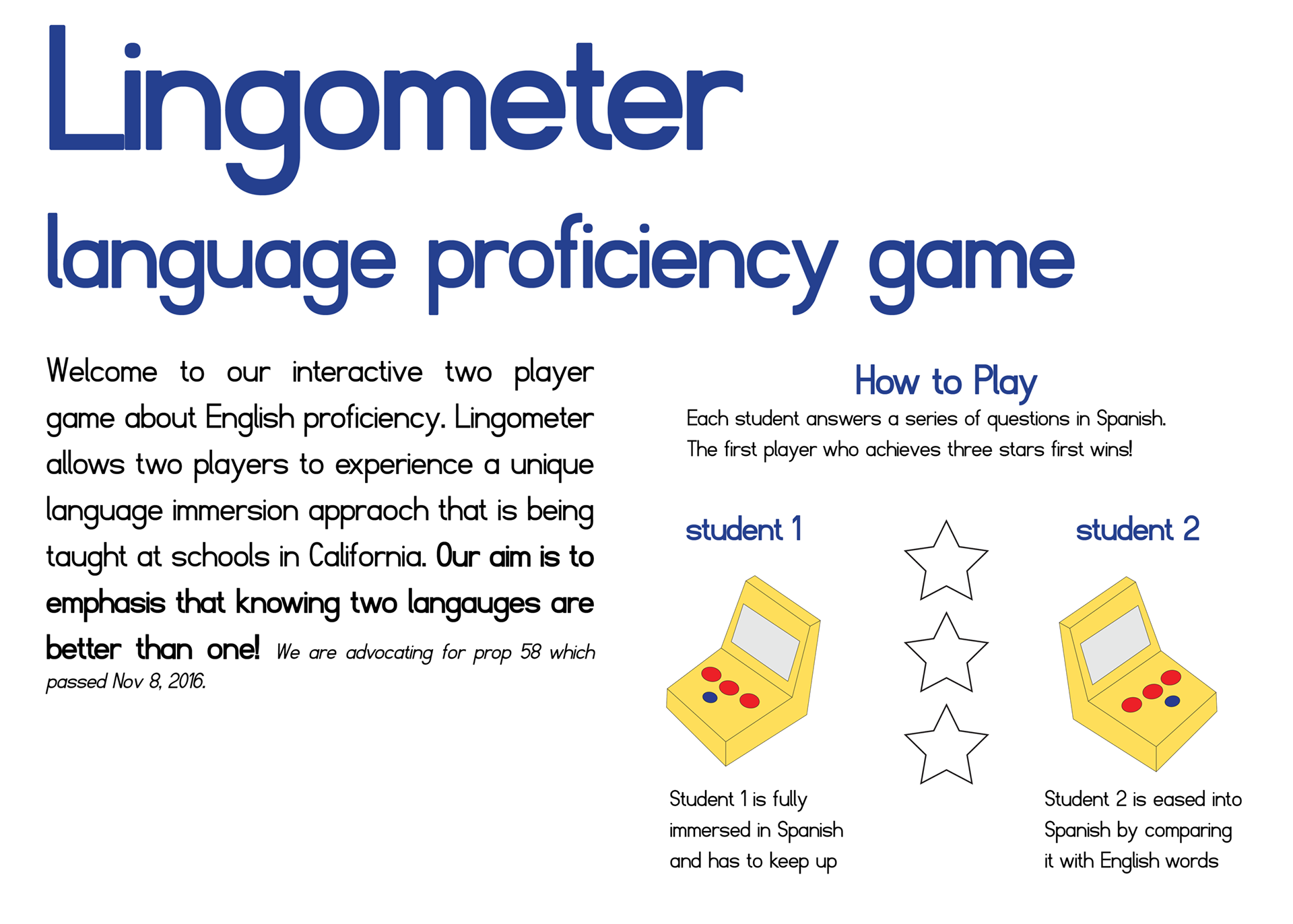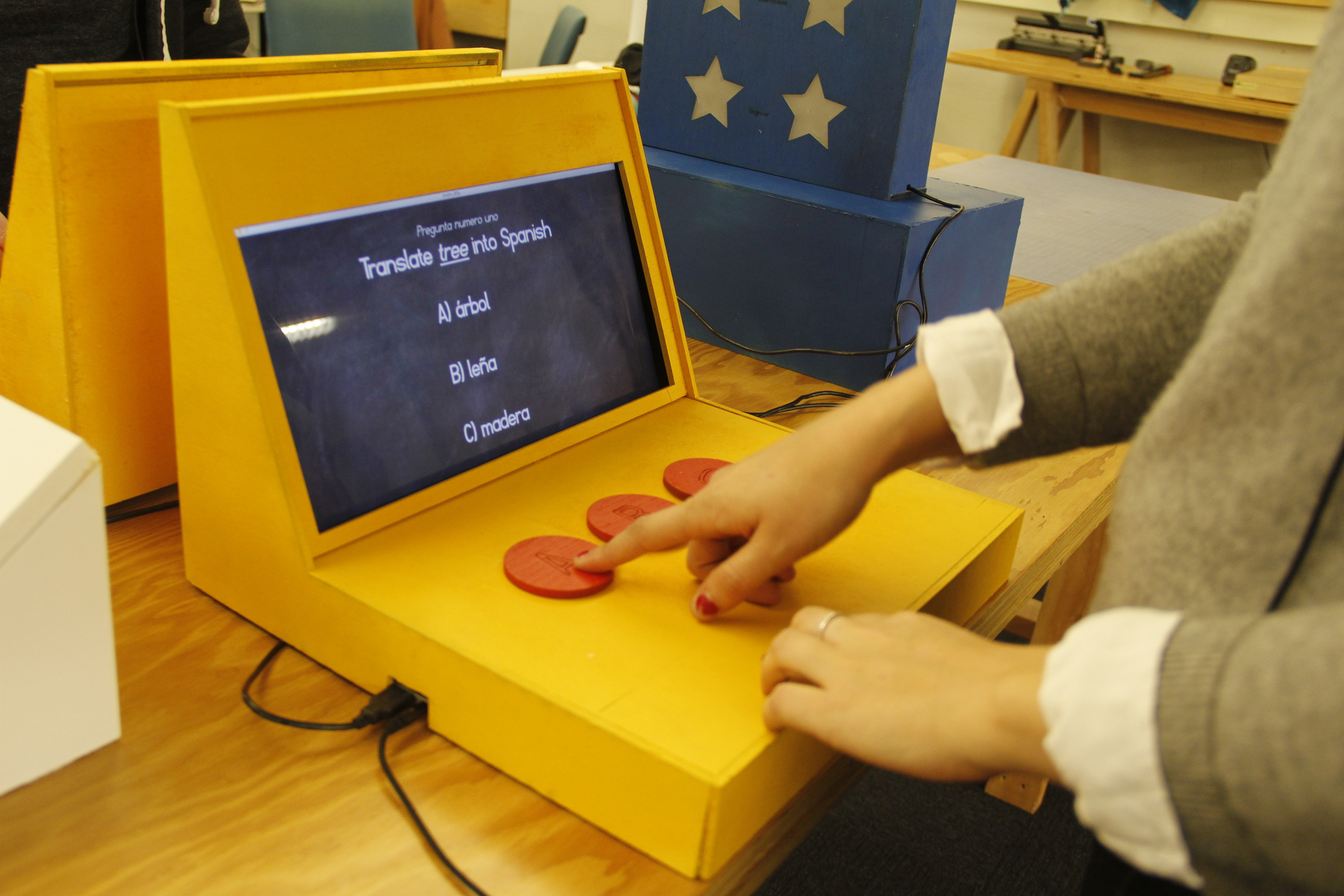 Designing a Call To Action
We deployed our game in a public library and encouraged voters to compete using Lingometer. This game design inspires a conversation between voters about teaching methods that can help students excel rather than make them feel incompetent. We wanted our voters to compete and reflect what non-native speakers might feel in classroom environments.
Our voters shared their with each other which prompted a conversation about the effectiveness of Lingometer as a two player game. We learned that our voters would have liked to have a chance to replay the game as a different player so as to clearly distinguish between a 'Yes' or 'No' to Prop 58.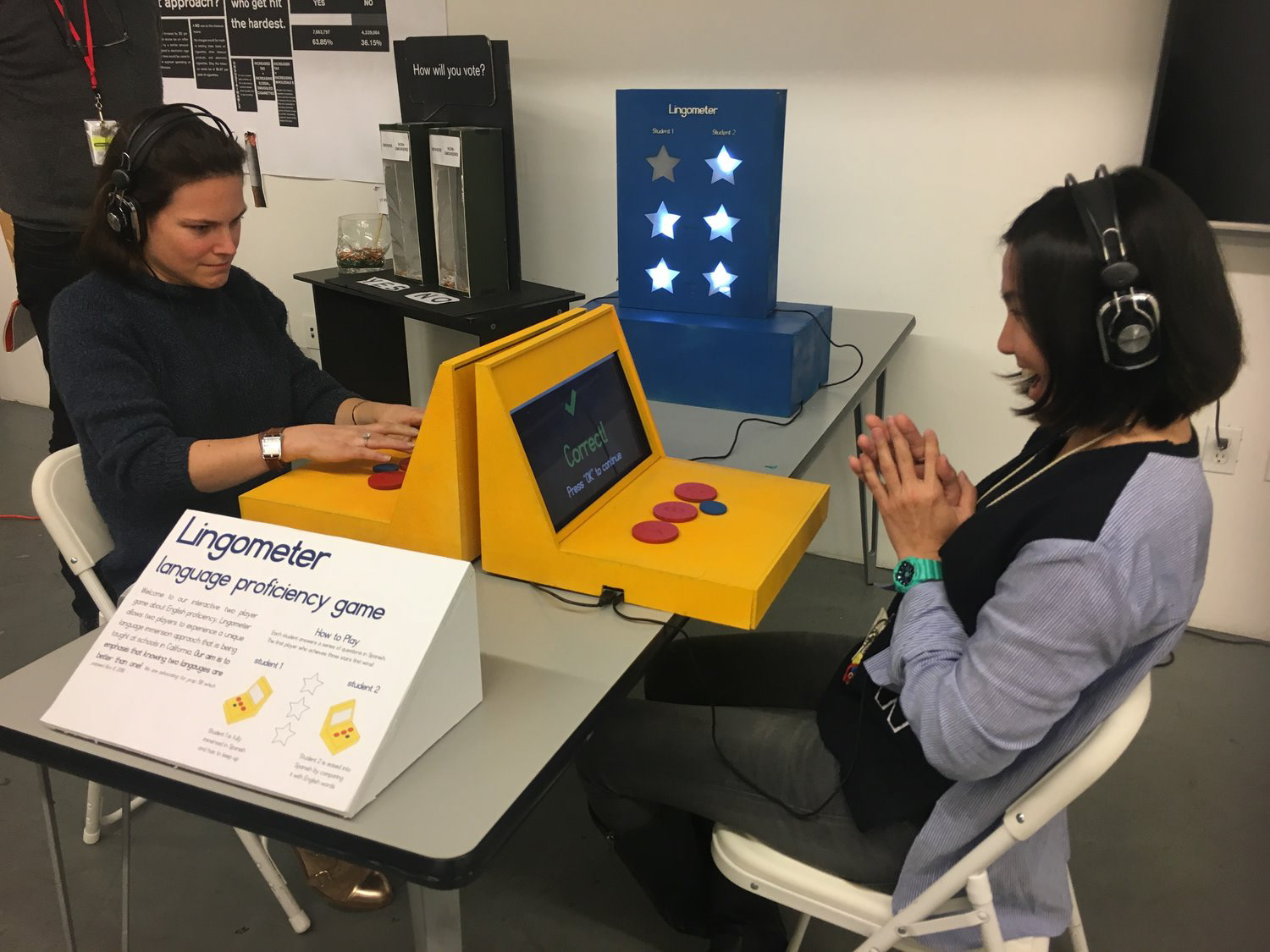 Reflections
Since this ballot initiative has passed, Prop 58 [now] allows schools to have local control of teaching methods that will benefit their students for the global economy. When we presented our interactive, we received positive feedback from our guest critic who encouraged us to think about how we might [re]package this interactive ballot initiative for external and accessible use.
One of the biggest constraints from this interactive was its size and set up. Lingometer requires two players and technical equipment. I would like to reconsider some of these decisions and explore mobile interactions that would still yield an effective, empathetic and educational experience for individual voters.